Camp Management
Simplify your camp management with online registration
Automate your camp registrations with customizable forms, real-time calendar and online deposits and payments.
Parents can easily register campers, fill out forms, and make payments online, saving time for everyone!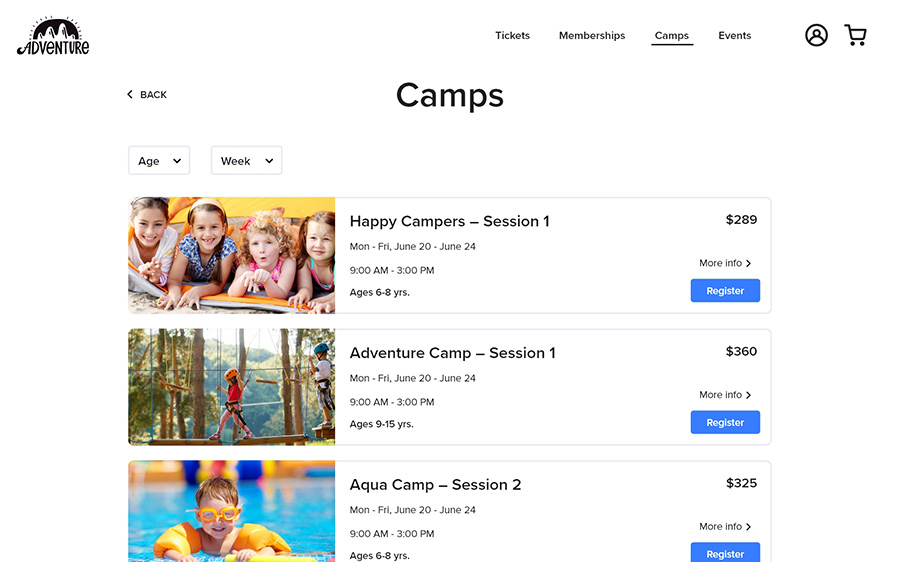 Sell Camps & Classes
Streamline your registrations
User-friendly interface for your customers.
Set the price of camps per person, per day, or per session
Set capacity limits and enable waitlists
Limit bookings to age-appropriate classes
Works great on all devices with a web browser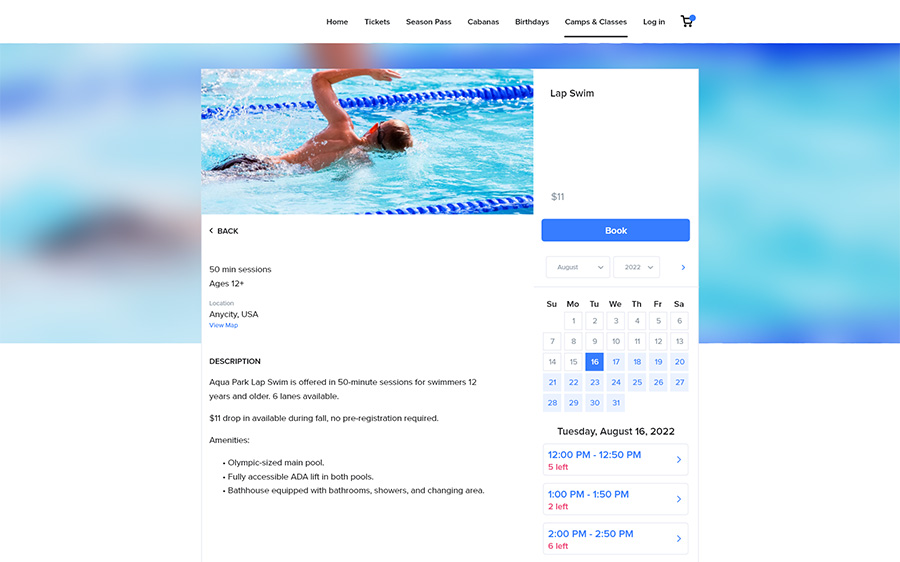 Online Camp Registration
Daily & weekly camps
View calendar with real-time availability
Clear description of your camp offerings
Flexible schedule: session, weekly, and day camps
Set capacity limits and show the number of spots left
Offer camp add-ons: t-shirts, photos, extended care, and more.
Features for camp management
Custom Forms
Customize forms to fit your exact needs, such as contact info, dietary restrictions, food allergies, etc.
Camp Capacity
Set capacity limits, display real-time availability, display number of spots left, and enable waitlists.
Discounts & Promo Codes
Set up coupon codes, early-bird registration or siblings discounts.
Add Ons
Offer upgrades such as extended care, camp gear, photos, t-shirts, etc.
Multi-Child Registration
Allow families to register more than one camper at a time.
Reports
Create financial and enrollment reports to track your camp's success. Produce rosters and waitlists.
Roster List
Print your roster list for checking in attendees offline.
Flexible Payments
Securely accept credit card or ACH payments, process refunds, provide discount options, and offer gift cards.
Online Camp Registration
Create custom forms, automate communication with campers, and accept deposits and payments online.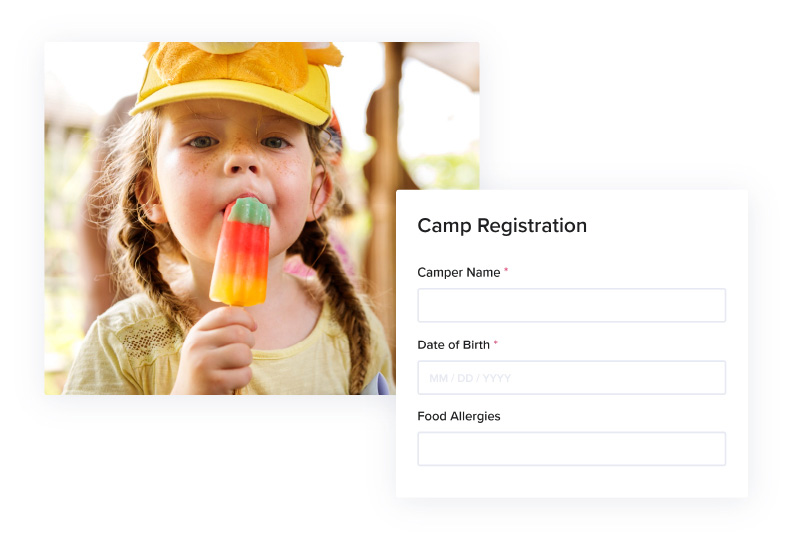 Custom Forms
Camp registration
Capture data that's important to you!
Customizable forms, input can be required or optional
Care giver contact information
Camper information: name, DOB, food restrictions, allergies, and more
Group register more than one camper at a time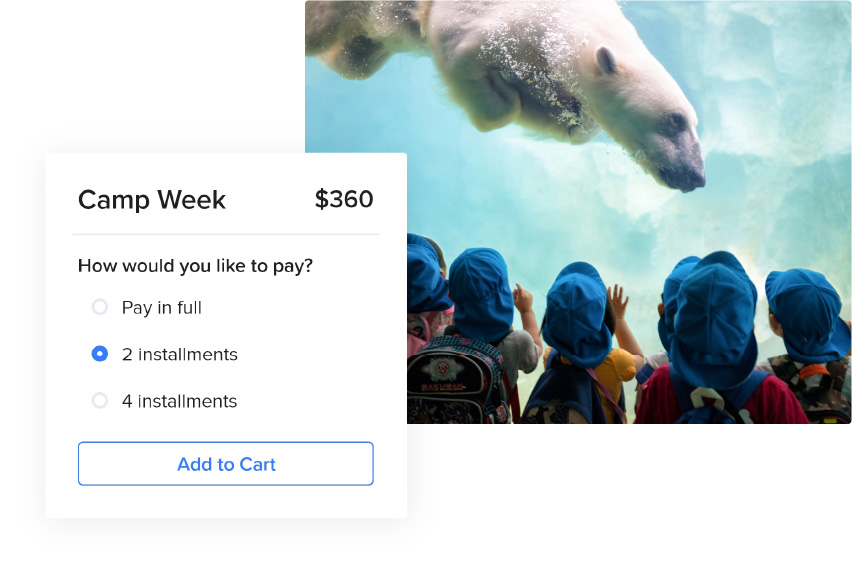 Payment Processing
Pay deposits and tuition online
with flexible payment options
Accept all major credit cards, Apple Pay, Google Pay, and ACH
Offer online deposits and discount coupons
Payment plans to pay tuition over time
Automatic email confirmation receipts and balance reminders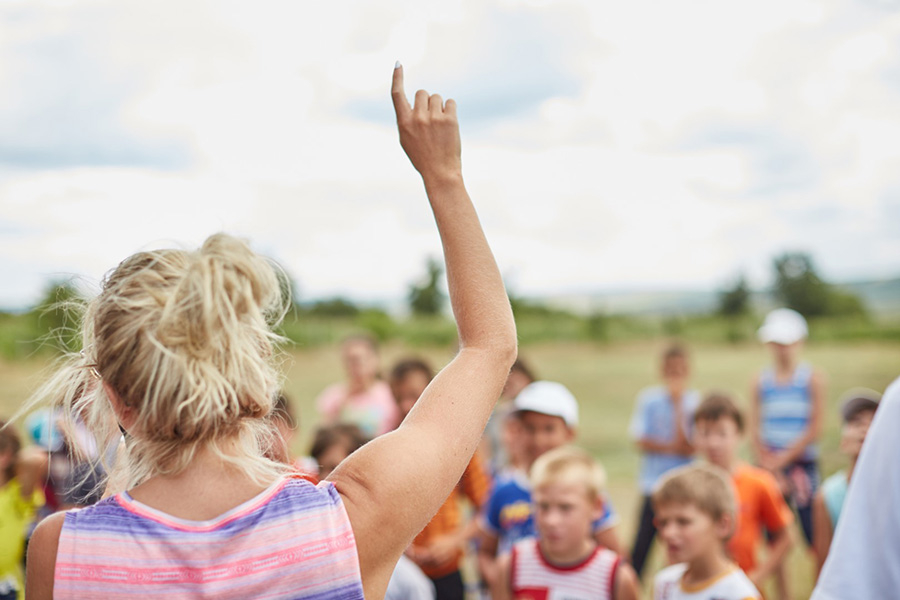 Management
Easily manage all of your camps and classes
Real-time reporting and dashboard
Printable camp rosters and sign-in sheets
Add campers to waitlists once capacity is reached
Get a quick demo
See how Parker can help you simplify your day-to-day tasks, delight your customers, and grow your revenue.
Fill out this form and we'll be in touch within 24 hours!