Ticketing Point of Sale + Mobile
Amusement Park Point of Sale
that's full-featured and easy to use.

Accept payments anytime, anywhere
Parker's point of sale streamlines your walk-up ticket sales, bookings, group sales, memberships, pass processing and access control using the Parker app on Android devices.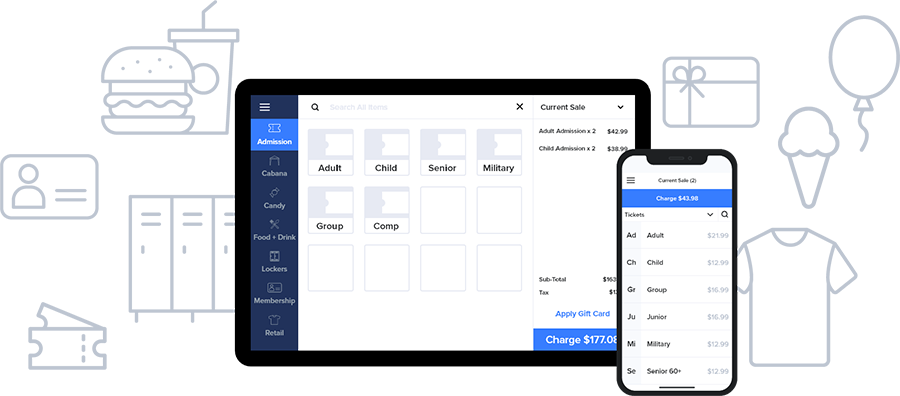 Desktop & Mobile
Easy-to-use touchscreen
point of sale.
Accept all payment types and manage inventory in real time.
Role-based security and permissions
Apply discounts and issue refunds
Accept refundable security deposits
Sell merchandise, gift cards, food & beverage, and more.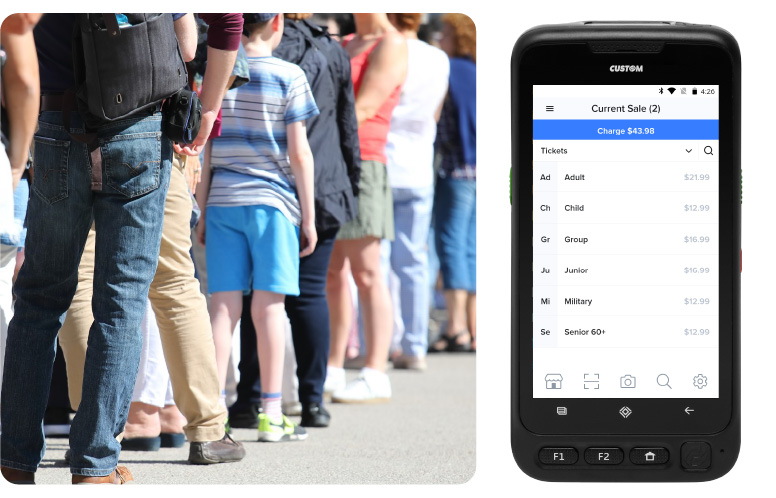 Mobile POS
Mobilize your front gate
Deploy your front gate staff for line-busting with our handheld mobile POS or tablet.
Hand-held device P-Ranger is a durable, full-featured POS. It has everything you need to serve your customers on the go.
Quickly scan barcoded tickets and passes
Accept all major credit cards and contactless payments
Point of sale features
One system for quick, easy checkout and powerful reporting
Ticketing
Walk-up Tickets, Date Specific or Open, Timed-Entry or Any Day
Access Control
Web & Android App, Mobile Scanner, Validate Barcoded Tickets & Memberships
Flexible Payments
Securely accept credit card or ACH payments, process refunds, provide discounts, and offer gift cards.
Discounts
Simple to Complex, Manual or Auto Applying
Gift Cards
Virtual & Physical Cards, Sold & Redeemed In-Store or Online
Staff Permissions
Role-based permissions give employees access to only what is needed. Unlimited number of roles and logins.
Reports
Real-time dashboard reports. Sales, Attendance, Redemption, General Ledger, and more!
Inventory
Control the quantity available for sale. Tickets, Memberships, Birthdays, Rentals, Reservations, Retail, Food & Beverage.
Add Ons
Increase sales by offering add-ons, pizza, cake, party favors, and more!
Mobile POS
Capture sales where your customers are using mobile Android phones, tablets, and purpose-built handheld scanners.
Rentals
Offer refundable inventory-controlled cabanas, lockers, inner tubes, and other limited resources.
Reports & Analytics
Sales summaries; product, category, and discount sales; manifests; attendance; redemptions; general ledgers; and more!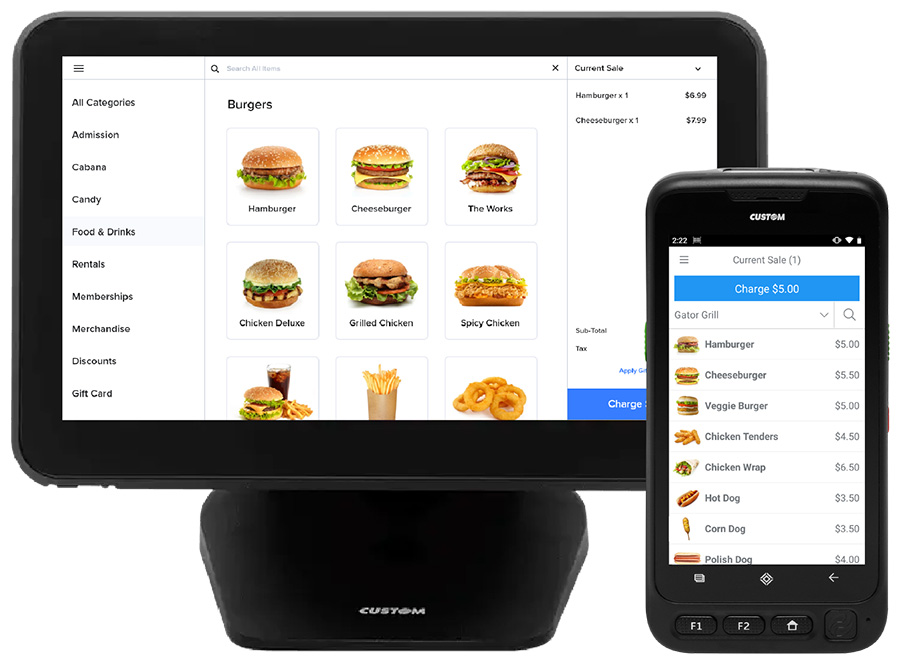 Concessions
Food & Beverage
Walk-up food sales & mobile carts
Categorized product grids
Add modifiers and add-ons to orders
Print kitchen receipts for incoming orders
In-park ordering via QR code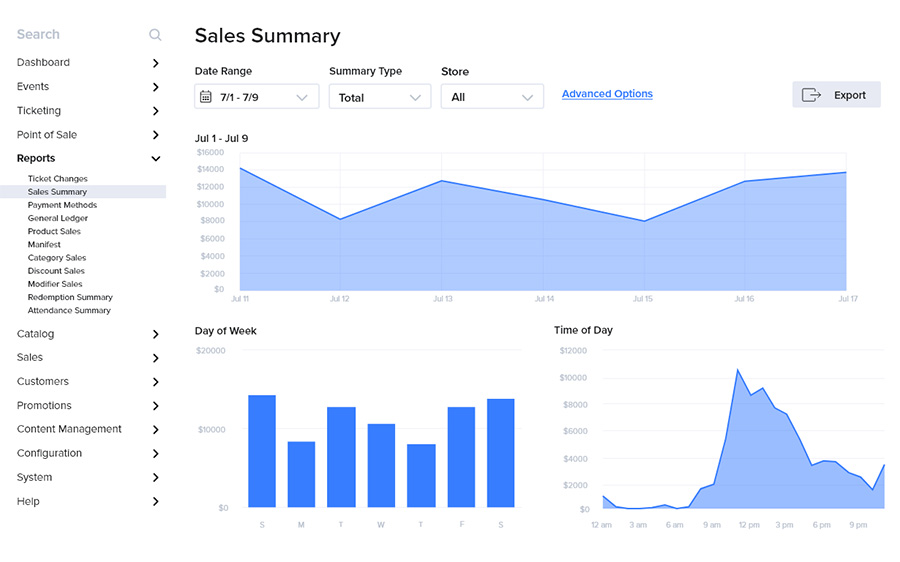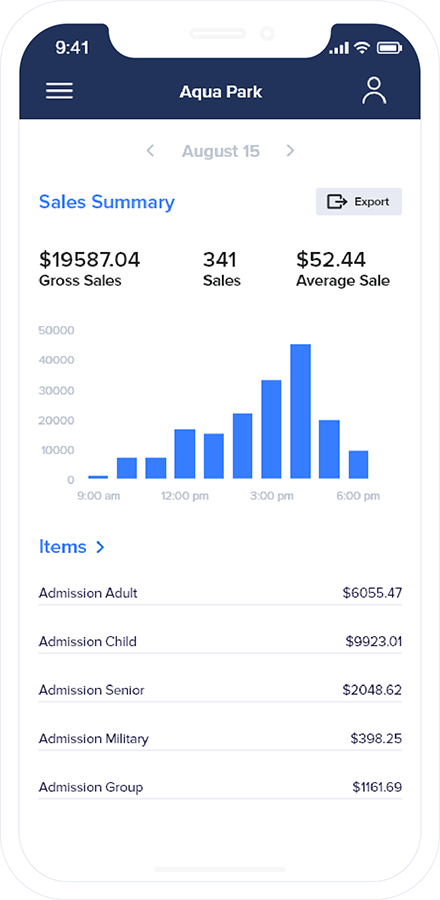 Real-Time Reporting
Make business decisions backed by data
Easy-to-use reporting dashboard
Track sales, attendance, and redemption in real-time.
Visualize trends with built-in graphs.
Custom Reports, Scheduled Delivery, Export to Excel
Sales Summary, Product Sales, Category Sales, Cashier, General Ledger, and more
Get a quick demo
See how Parker can help you simplify your day-to-day tasks, delight your customers, and grow your revenue.
Fill out this form and we'll be in touch within 24 hours!